Featherspring Brochure and Impression Kit
$ 0.00
Foot pain? Forget it. It's gone. Guaranteed.
End sore aching feet caused by: • Corns  • Calluses  • Bunions  • Flat feet  • Pain in the balls of the feet  • Burning nerve endings  • Cramping  • Painful ankles  • Hammertoes  PLUS so much more!
"They work – they really work! I might as well have been in a wheelchair before these. I suffered from incredible foot pain in every step and I could not stand or walk. Now I have full mobility including a 3-4 mile stroll every day."  J.O. in Missouri
Description
Total Relief Guaranteed – Risk-free!
Don't blame foot pain on your shoes. Most foot pain comes from misalignment of the bones in your feet.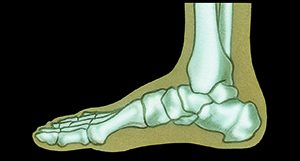 Foot pain begins when your foot's balance and natural elasticity is gone. Corns, calluses, bunions and even hammertoes can develop, as well as toe cramps, fallen arches, burning skin, tender blisters, flaking and chafing. Ankle, leg, knee, hip – even lower back pain – can result from improper foot alignment. And when your feet hurt, you hurt all over.
Now! No More Foot Pain. Guaranteed!
Featherspring® Foot Supports, a remarkable discovery from Europe, are unlike anything you've ever tried. First, they are custom-formed for your feet and your feet only! Secondly, flexible Feathersprings help restore and maintain the elastic support you had when you were younger. Furthermore, you can stand all day, walk, dance, jog or even run in total comfort. Your feet, ankles, legs, knees, hips – even your back – can find relief. You see, Feathersprings actually support your feet. And they do so while absorbing shock and relieving pain.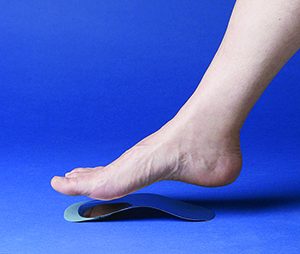 For over 50 years, Feathersprings have brought blessed relief to more than 3,000,000 foot pain sufferers worldwide. No other foot support has ever given so much relief to so many people.
It doesn't matter whether you are a woman or man, whether your feet are size 4 or 14, what width your foot is, how low or high your arches are, how old you are or how long you've had foot pain… we know Feathersprings will work for you. Get your Free Brochure today and rediscover the joy of walking pain-free! Watch for the BIG PINK ENVELOPE for complete details.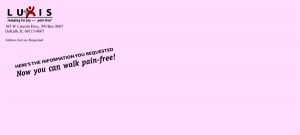 Other Details
Double Guarantee!
Lifetime Free Replacement Guarantee:  If your Feathersprings should ever break from normal use, and parts have been maintained, then we will make new Feathersprings® for you free of charge. (Damaged pair must be returned for replacement.)
Money-Back Guarantee:  You have a full year to try your Feathersprings. If you're not completely satisfied, just return them within the first year for a full refund of the purchase price (shipping and handling charges are non-refundable).
Customers' review
5 stars 2
4 stars 0
3 stars 0
2 stars 0
1 star 0